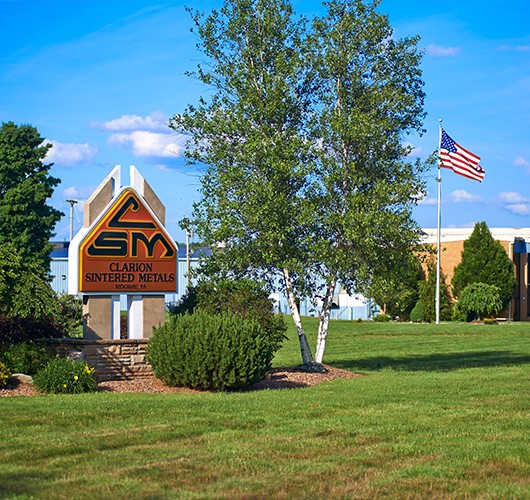 Clarion Sintered Metals
Clarion Sintered Metals is a leader in the production of high-quality structural powdered metal parts. We specialize in high volume ferrous-based metal products for automotive, lawn and garden, agricultural, and other industrial markets. We also offer PTFE rings, washers, discs, and seals for both automotive and industrial markets. To strengthen our position in the supply chain, Clarion Sintered Metals offers unique design solutions and value-added subassemblies for both automotive and industrial customers.
Clarion Sintered Metals has demonstrated continual growth and is established as a key supplier in the automotive and industrial supply chains. We are one of the largest independently-owned powdered metal parts companies in the world, and the largest manufacturer and exporter of automotive ride control components in North America. Clarion Sintered Metals is one of the most trusted and experienced producers of powdered metal parts worldwide; our products are used in 25 states domestically and 18 countries around the world!
You are not just a customer, you are a partner. We believe that your success is our success. Together we can design, create, develop and innovate Today and Tomorrow.
contact us today!

LEADING EDGE CAPABILITIES
As the automotive, industrial, and powdered metal industries have changed, so has Clarion Sintered Metals.
OUR TECHNICAL SERVICES


contact us today!

PRODUCTS YOU
RELY ON
Complex design? Intricate machining? Unique material requirements? Stringent performance requirements? Clarion Sintered Metals can help you overcome any obstacle associated with your project.
No matter what type of project you have, Clarion Sintered Metals is the perfect choice to define and create your manufacturing solution. Experienced and professional, we specialize in both automotive and non-automotive parts, including industrial and household applications.
With a multitude of satisfied clients, we invite you to read on to find out more about what Clarion Sintered Metals can do for your organization. No project is too complex, and we strive to create an environment that allows our clients and staff to communicate effectively in order to achieve the manufacturing results your company deserves. Contact us today for more information on all of our production services.